Designing for Multi-Tenant Applications
SingleStoreDB is a great solution for multi-tenant analytical applications because of its unique architecture which provides ultra fast ingest, super low latency queries, and high concurrency. This article is for developers looking to create secure, performant, scalable, and cost effective applications on top of SingleStore. It contains design patterns you can use with workspaces and databases to get the most out of SingleStoreDB for your multi-tenant apps.
Multi-Tenant Design with Workspaces
Workspaces are how SingleStoreDB achieves separation of storage and compute, which makes them idea for use in multi-tenant applications.
Example
Let's assume that one of SingleStore's customers has 10,000 customers with free, standard, premium and dedicated offerings. Workspaces can be used to create different service expectations between these offerings. Each group can be placed on a separate workspace, where the number of users and the size of the compute workspace could be adjusted to provide higher or lower quality of service per tenant.
Example offerings:
Free - S-2 Workspace - 9,000 tenants with low performance requirement and infrequent usage

Standard - S-4 Workspace - 900 tenants, medium performance requirement with infrequent usage

Premium - S-16 Workspace - 99 tenants with high performance requirements and frequent usage

Dedicated - S-4 Workspace - 1 tenant whose data and compute capacity need to be dedicated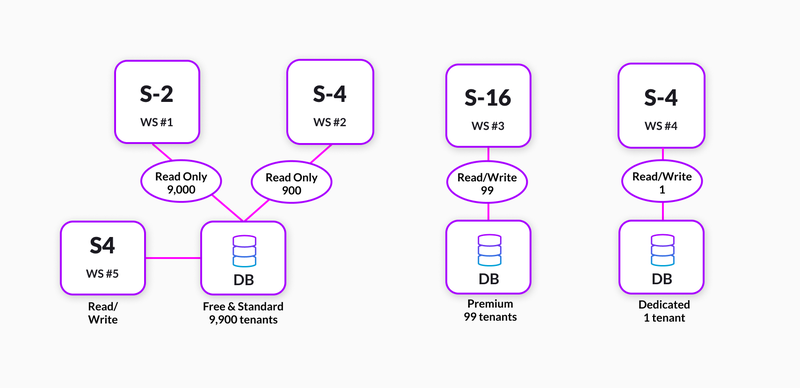 Multi-Tenant Design with Databases
Customers have a few options when designing their databases with multi-tenancy in mind. The following sections describe various possible approaches (Plans).
Summary
When deciding which approach is best for your particular circumstances, consider which factors are most important to you and your different offerings. In many cases, our customers have used a hybrid approach across the patterns mentioned above. For example, some customers have one use case on Plan A, another on Plan B, and a handful of high value customers completely isolated with Plan C.
Last modified: July 5, 2023